Hergest Ridge/Offa's Dyke Path.
We have been to Hergest Croft Gardens, near Kington, a number of times but we had never been further up the lane to Hergest Ridge at the top. It was now time to change that.
We took our normal route to Hergest Croft Gardens but instead of turning into their car park we went straight past to the end of the lane where we parked and continued on foot through the gate along Offa's Dyke Path.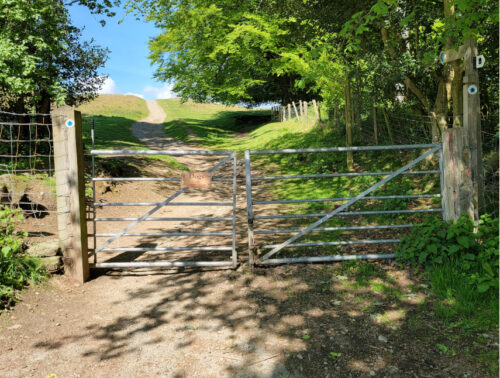 Hergest Ridge straddles the English and Welsh border and is part of the Offa's Dyke walk as well as a standalone highlight in any exploration of Herefordshire.
If you decide to start at the main carpark in Kington a modest climb of 1300 feet up from the quaint town will bring you to this point, where we started, and we continue through the gate on the Offa's Dyke Route.
Heading for the top the views emerge all around and, as you walk, run, or cycle along the beautiful moorland, you may chance on wild ponies grazing , we didn't see any, but we saw some wonderful views.
There were numerous people walking up here and you can probably see that Offa's Dyke Path is well worn and, therefore, easy to see and follow.
There were plenty of wild flowers about and we saw this Tormentil and Gorse on the way up.
From the ridge you can look across to the Black Mountains and even as far as the Malvern Hills, with uninterrupted English and Welsh countryside landscapes all around.
Look out for the Victorian racecourse that sits atop Hergest and imagine the thrills and spills as the horses galloped around the track. As we approached the summit we could see the Monkey Puzzle Trees ahead. This area is part of the Hergest Estate and the trees were planted by one of the owners having seen similar trees growing on mountain tops in Chile in the early 1990's.
You should also see the Whetstone near the summit, a natural stone, which in medieval times was used as a place to distribute food to people suffering from leprosy. Legend has it that the stone rolled down to Hindwell Brook each time it heard a cock crow. but it doesn't attempt to explain how it managed to get back up the hill again.
On the way down we noticed this tree in blossom. Although the blossom is pink we think that it's a Blackthorn.
This was an easy and very pleasant walk on a warm sunny day.