England's smallest and England's oldest – Wednesday.
Today we leave for home but we haven't finished yet as we can visit other places on the way. Remember yesterday we stopped to look at a distant view of Bradgate park and said that we'd be going there today? Well that's first on the list after breakfast.
Bradgate Park is only a few miles from Woodhouse Eaves so we were soon there. This publicly accessible open space is about twice the area of Beacon Hill Country Park, has views which are just as breathtaking and has those spiky outcrops of precambrian rock that you have grown to know and love so well.
We didn't really explore this area, other than looking around the top of the hill, as there is so much of it; another time perhaps. We set off again, travelling south, with the intention of calling in at Houghton Mill on our way past. We arrived at Houghton around lunch time and so had a snack in the National Trust Tea Rooms – not a bad spot at all.
The swan, on the bank in the next picture, and I didn't really hit it off.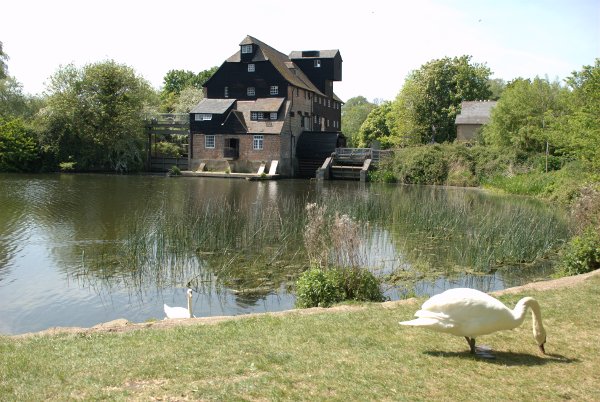 He waddled up to me and looked me straight in the eye with an expression that said "Come on, where's the food then?". There wasn't any food. After a short pause he reached out and nibbled my shoes, decided they were not at all tasty, looked at me with contempt and gave a loud hiss of displeasure. Ah well you can't win 'em all.
We did, however, see a pair of Great Crested Grebes on the river.
At least they didn't take a dislike to me – they just ignored me.
We went home.