From Iron to Copper – Day 2
Day 2
Tuesday morning. Woke. Levered eyelids open to look out of window. Another sunny day.
After breakfast we drove all of 15 minutes to Bodnant Gardens, which is managed by the National Trust, and we have been here before about 30 years ago before this web site was even thought of so no photographs from that trip. It is not an old garden having been created around 1874 and there is a house but it is private and not open to the public. Bodnant means 'dwelling by a stream'.
The garden was gifted to the National Trust in 1949 when I was 13 years old which isn't really relevant but I thought you'd like to know.
One of the things that we came to see was the Laburnum Arch.
How's that for a show stopper? This is very near the entrance so was an obvious first and I was lucky to get a photograph with so few people in it. The one trouble with Bodnant is that because it is world famous it is very popular and very busy.
Although the house is not open to the public it is visible.
I'd like to be able to have a look inside that conservatory.
A short way from the house we saw the occasional Rhododendron and at this time of year they seemed to be everywhere. It didn't seem to matter where we were or which direction we looked there would be rhododendrons. This garden houses one of four National Collections of Rhododendron forrestii, named after the plant collector George Forest, so that might explain it. Bodnant raised their own Hybrid Rhododendrons of which the garden has a mere 350.
As the garden is very large, at around 80 acres, and is on a slope, there is plenty of structure to it.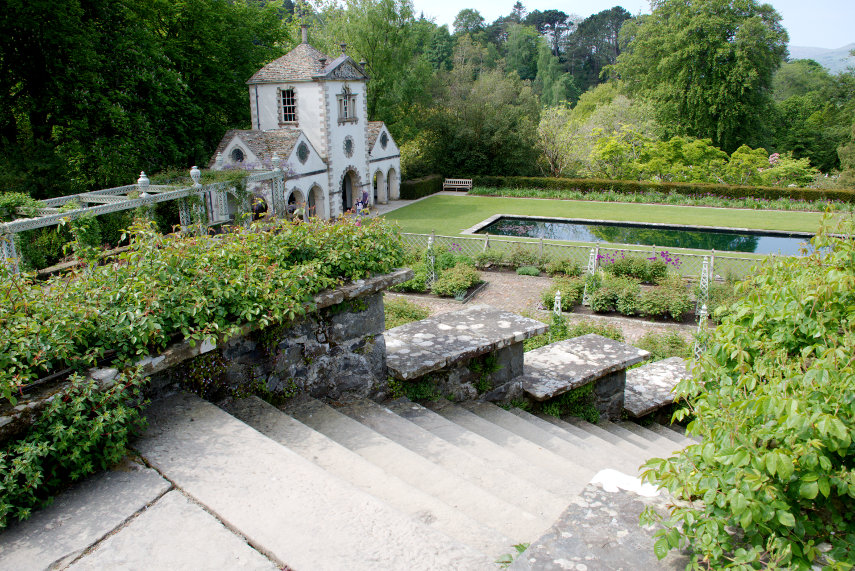 Above shows the Lily Pond with the Pin Mill building on the Canal Terrace. The building was added in 1938 having been built in 1730 in Gloucestershire; it was rescued from decay by Henry Pochin, the original founder of the garden, who dismantled it, brought it to Bodnant and rebuilt it brick by brick.
We plodded onward down the slope passing numerous rhododendrons on the way and caught sight of this cheeky chappie eating the flowers!. He certainly wasn't timid and if he eats them all he'll end up the size and shape of a pumpkin.
We could see from the view in the next picture that we were, at last, getting near the bottom of the valley and the river. Rhododendrons? What rhododendrons? You don't expect to see them everywhere do you? Oh! Wait!
At the bottom of the valley is the old mill and Amanda showing the way. Nobody mention rhododendrons!
The building is the old mill, a Grade II listed building, which was built around 1837 and was used to turn the wheels of the estate flourmill and then the estate sawmill. There is also a small refreshment kiosk here (it's a long uphill walk back to the main tearooms).
So that's the end of the garden then? You have to be kidding! There is now a greater distance to  the 'Far End' than we have already covered. So lets's not waste time – just follow us. Keep up and don't dawdle.
Off we go then and I'm not going to mention Rhododendrons.
I think that the poor chap above was just stunned by the amount of colour and in the next picture Amanda must have spotted something interesting (no it wasn't me).
Stepping stones across the River Hiraethlyn. The disappointing part, for you, is that Amanda didn't fall in. In walking along the valley one can walk on either side of the river and cross at any of the frequent bridges as shown below.
There are a number of lakes along the valley.
Finally we reach the 'Far End' BUT we now have to walk back and it's all UP. 
   On the way back we popped in to have a look at this – The Poem. Perched on a steep bank overlooking the mill pond this beautiful building was built by Henry Davis Pochin, the original builder of this garden, as a last resting place for his family.
After all that walking we staggered out of the exit and slumped into our car. So was that the end of our day then? Well no. It was about the middle of the afternoon so, even though we were tired, we decided to travel the short distance to Conwy.
We have been to Conwy before and there are pictures on the main web site of that visit but there some things that we hadn't seen on that occasion. One of those was the suspension bridge built by Thomas Telford now owned and maintained by the National Trust. When we visited Conwy for the first time there was an entry fee and we thought that it wouldn't be value for money so we gave it a miss. This time, however, we were National Trust members so could get in free. When we arrived we found that there was now no charge and the bridge was open to all.
It is an impressive bridge and very attractive so it was a worth while visit. From here we walked down to the Quay to see something else that we had heard about.
A house can't come smaller than that surely unless you know better?
By this time our legs were worn down to the knees so we went back to the hotel. Another dinner, another sleep. Another day. What will the new day bring?