We had booked 2 nights in the Biggin Hall Hotel but first thing this morning we decided to extend our stay by another night so now we have all today, all tomorrow and part of Wednesday here.
This morning we walked out of the hotel along the road for a short way and took the public footpath through Biggin Dale.
After a couple of miles Biggin Dale joined Wolfscote Dale which, if followed, eventually leads into Dovedale made famous by Isaac Walton. We walked a short distance south and spotted a small cave up the side above us and so scrambled up to have a look. As it turned out it wasn't very interesting but the view from up here was.
You can see, at the bottom of the picture, the path that runs along by the river in Wolfscote Dale and it can be seen again in the distance to the right of centre of the picture. You can also see the start of the path that runs up to the cave.
Just below the cave there was a bridge and some stepping stones across the river leading to a very steep path up the other side which probably gave an even better view than that from the cave so we had to have a look. Amanda decided that bridges were for wimps and that she would have to use the stepping stones.
Having crossed the river we started up the side, which luckily, had some crude steps cut into the earth. We eventually, after some rests, made it to the top.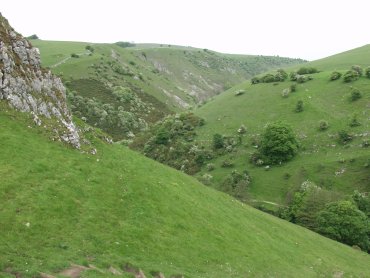 The dale going off towards the right hand corner of the picture is Biggin Dale, the dale that we had previously walked down. After a good look at the views we started back down.
You can see some other people starting up, the bridge and, near what looks like a dead tree, the stepping stones.
After going back across the river we continued south to the junction with another dale and took our last look at Wolfscote Dale before turning east up the new dale.
Following the footpath we were heading for the Tissington Trail which would take us back to Biggin. After about a mile we could see Biggin in the distance.
We arrived back at our hotel somewhat foot weary but with a sense of satisfaction after a lovely walk.
More tomorrow.