… (the ones on the end of our legs that is) and we walked them from Westminster to Liverpoool Street Station. Why Liverpool Street Station? Because that's where our train to London terminates and we will be going back home from there.
We saw Westminster Palace, the London Eye in close up, the Millenium Bridge, some old churches, Tower Bridge, the old Billingsgate Fish Market, a Saxon Arch, the Gherkin, a hidden treasure, lots of alleys, the Royal Exchange, the Bank of England, the Mansion House and a Turkish Bath House. We also visited the area where Charles Dickens wrote some of his novels.
We'd better get started then, there's a lot to do. Don't forget that clicking on a picture will give you a larger version.
Friday was a sunny day and, after travelling to London, we took the tube to Westminster and walked across Westminster Bridge to the south side of the Thames. There's a good view of the Palace of Westminster (Houses of parliament) from there.
We turned east along the riverside path and in a very short time reached the London Eye. I have to say that it looks an impressive bit of engineering in close-up. There were longish queues but not excessive and we weren't planning a ride.
There are a number of visitor attractions along this stretch of the path, including the London Aquarium, together with various cafes which give the area a holiday atmosphere. There are also a number of street entertainers and snack bar trailers along here and we decided to have an early lunch. We bought ourselves some snacks and sat on a riverside bench to eat them whilst watching the world go by. There were a lot of tour boats and we saw a restaurant boat which looked rather like a rather long floating greenhouse.
After lunch we continued along the path with views like this:
I'm sure you don't need me to point out St. Paul's but the bridge is Blackfriars Bridge which we intend to use to go back across the river to the north side. The cranes are part of the building works apparently being carried out on the railway bridge. I don't know what they are doing but they are doing a lot of it.
After crossing Blackfriars Bridge, to get to the riverside walk, one has to do one of two things. Although we want to head east the easiest way to the path is to turn left (west) and go down to the Embankment, on to the path, then turn back east along the path. The alternative is to turn east but that means you can't access the path until you reach the Millenium Bridge then go down the steps either side.
The path on this side, the north side, is very nice and we soon reached the Millenium Bridge.
We continued past the bridge to Broken Wharf where one has to walk inland up to High Timber Street, along High Timber Street for a short distance, then back down Queenhithe to the river. Somewhere between Southwark Bridge and Cannon Street Station we reached a point where the river path continued on but there was a passage to the left which we wanted to explore. This is what we found:
Known as Fruiterers Passage the walls and ceiling are all tiles and the framed images are old engravings of London. We followed the passage round and came out on the river path again and a little further on the path goes through a sort of cage.
The bridge on the right takes the railway from Cannon Street Station across the river and when we reached the edge of Cannon Street Station on Cousin Lane we saw these, rather appropriate, items:
At this point you could be forgiven for thinking that the path stops here but you'd be wrong. On the other side of Cousin Lane there is a black cavernous opening which looks like the entrance to a goods warehouse or similar but it is Steelyard Passage and it will take you underneath Cannon Street Station and on to the continuation of the path.
As we walked along the path I noticed this view to my left. The pillar with the golden top is, of course, the Monument and you should just about be able to see people on the top platform.
The church, of which only the roof and tower is showing, is St. Magnus the Martyr, a Wren church, and we detoured very slightly to look inside. The original church was one of the first casualties of the Great Fire of London and was subsequently rebuilt by Sir Christopher Wren. The roof was destroyed in 1760 by another fire and a smaller fire in 1995 caused more minor damage. It was badly damaged by a bomb in 1940 and was repaired once again.
Back onto the riverside path we continue onward.
That large overhanging balcony on the left above the path is a public viewing gallery accessed by steps just this side of it so we went up. There was absolutely nobody up there, except us, and there is also no seating of any kind. This is the view:
The building on the left is the old Billingsgate Fish Market with Tower Bridge in the distance. Soon after this we reached the Tower of London and this is where our riverside jaunt ends because from here, being only early afternoon, we branch off in a north-westerly direction into the City of London to continue our explorations.
Leaving the environs of the Tower of London we walked along Gloucester Court until we spotted the church of All Hallows by the Tower and went inside.
This church is the oldest church in the City of London having been founded in the year 675 but only an archway from that original church remains above ground.
There is a crypt, part of the original Saxon church, which has part of a Roman tessellated pavement exposed. This is the Saxon Crypt.
This was a very interesting church and is well worth a visit. John Quincy Adams, sixth president of the USA, was apparently married in All Hallows in 1797.
After leaving the church we crossed Byward Street where I took this exterior photograph of the church.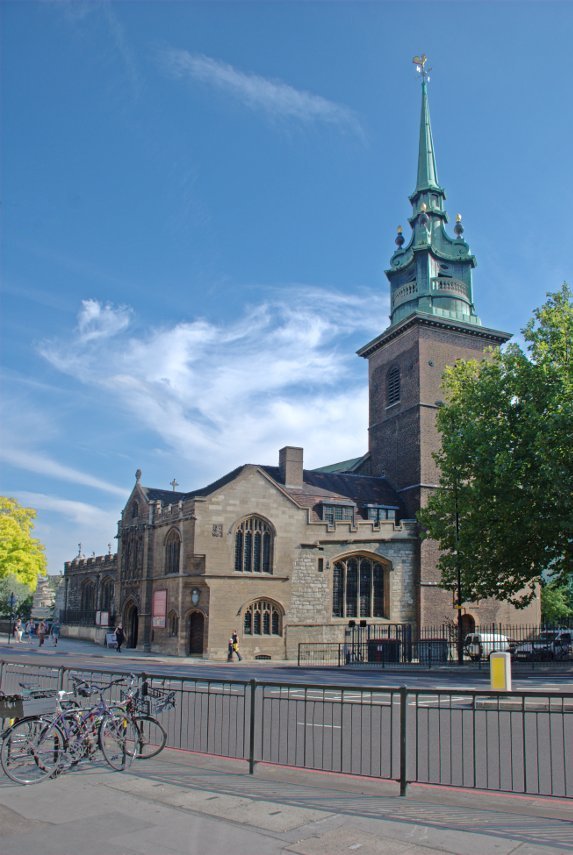 We turned north up Seething Lane which has a nice little garden with bench seats but nothing special so we went on. Up to Hart Street, turned left and along to Mark Lane where we turned right (still going north) to look for Star Alley. We found Star Alley easily enough and what should we see peeking at us through a gap in the buildings but the Gherkin (proper address 30, St Mary Axe).
Nearby was a solitary stone tower. This apparently is all that remains of a church called 'All Hallows Staining', where 'staining' means 'stone', which distinguished it from the other 'All Hallows' wooden churches round about. It was built in 1320, which makes it medieval, and is maintained by the Worshipful Company of Clothworkers.
Off we went up Star Alley and popped out on Fenchurch Street. There are two alleys going north from Fenchurch Street through to Fenchurch Avenue and neither of us can remember which one we took although I suspect that it was Billiter Square.
Anyway we turned left (west) along Fenchurch Avenue towards the Lloyds of London building then right into Leadenhall Place – and were really surprised to see this:
The entrance to Leadenhall Market with part of the ultra-modern Lloyds building on the right. This is something we weren't expecting as neither of us can remember hearing of Leadenhall Market before. It was a meat, game and poultry market and has now had a change of use as Covent Garden has. There are various shops, stalls, cafes, pubs, restaurants and the like and what a wonderful old building it is.
We eventually left the market via Whittington Avenue, turned right along Leadenhall Street and spotted this little church near the corner with St. Mary Axe.
The church of St Andrew Undershaft is rather dwarfed by the Gherkin but is a rare example of a City church that has managed to escape both the Great Fire of London in 1666 and the Second World War bombing. The first church to occupy this site was certainly there by 1147 but that church was rebuilt in the 14th century and was replaced by the current church in 1532.
We went back along Leadenhall Street and left into Gracechurch Street looking for the alleys along the west side of this street. There is a bit of a maze of alleys in this area including St. Peter's Alley, Corbett Court, George Yard, St. Michael's Alley, Castle Court and Bengal Court.
We spent a while wandering back and forth and discovered that somewhere around St. Michael's Alley was where Charles Dickens had a study in which he wrote some of his novels. These are some of the pictures I took whilst getting lost in the alleyways.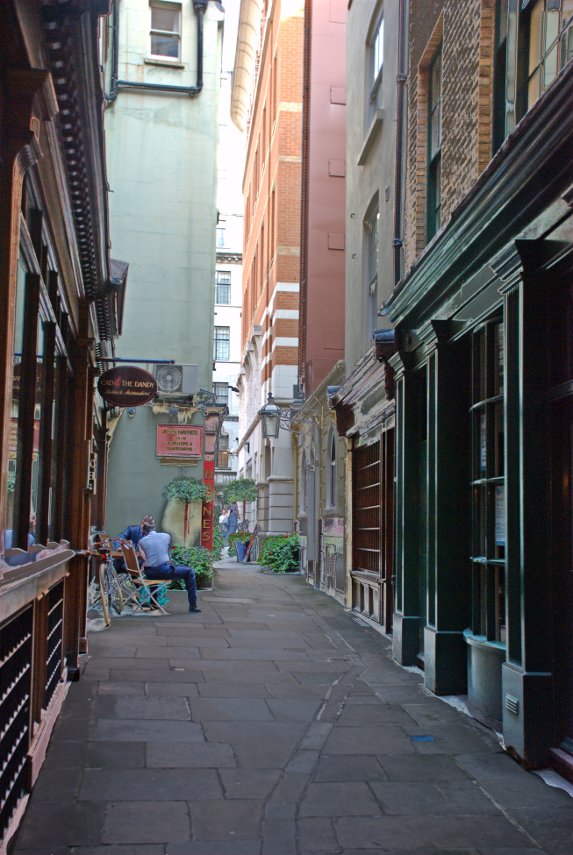 That last picture is the junction between St. Michael's Alley and Bengal Court so somewhere close to Charles Dickens Study.
We went through Bengal Court and across Birchin Lane into Change Alley and found our way through to Cornhill where we saw the Royal Exchange.
We crossed over to Threadneedle Street, Forked left up Old Broad Street then crossed London Wall to the northern part of Old Broad Street heading for Liverpool Street Station where we were to catch our train home.
So was that the end of our trip? Well not quite. To get to Liverpool Street Station from Old Broad Street we cut through an alley called Bishopsgate Churchyard and came across this little curiosity:
This is a Victorian Turkish Bath dating from 1895 now converted to a restaurant. It's not quite as small inside as it appears outside because a lot of it is underground. Needless to say, because it's still here, it survived the London bombings during World War II.
So now we have finished our trip so it's back home via Liverpool Street Station.
We haven't finished with this area in the City yet as there's more to explore a bit further north-west from where we've been today.
Until next time.