Wednesday 20th February was Marie's birthday and we had planned to meet her in London for a day out. The weather forcast for that day was cold and overcast but dry so we planned to visit the Museum of London, then lunch, then the Wallace Collection.
On the Tuesday before, the weather forecast suddenly changed, and it was going to be sunny spells around 11:00 AM and then clear sun around lunchtime for the rest of the day. So when we spoke to Marie on the phone the night before we formulated Plan B which was to meet at Paddington Station and walk along the Regents Canal to Camden Lock.
On Wednesday morning the weather forecast had changed again (this is all par for the course as far as weather forecasting in this country goes) and the sunny spells weren't going to appear until mid-afternoon. When we met Marie in Paddington Station we decided to revert to Plan A, but in reverse, as it appeared that there wasn't going to be much sun and it was cold with an icy wind. It was very nice to see Marie once again and she looked very well.
We walked from Paddington to Manchester Square, which is where the Wallace Collection is based, passing a few nice little mews on the way.
It was nice to get inside in the warm and we left our outer coats in the Cloak Room before setting off to wander round. Entry is free and even the cloakroom works on a donations basis. I did take a few more photographs, having taken many on our previous visit, but photography here is not easy. The light levels are low and using flash or a tripod is forbidden.
Those two backs belong to Amanda and Marie.
In one of the nearby cases was this rather fancy bowl. Not sure I'd like that staring at me though. It doesn't look terribly friendly.
Even this horse was a little surprised to see Marie and I think that the knight is using his sword to point out something on the ceiling. That's Amanda in the background looking at the other knight on horseback.
After a couple of late knights we left the Wallace Collection, walked the short distance to Oxford Street, and caught a 23 bus to St. Paul's where we were planning to have lunch in the Crypt. It did not go according to plan. We discovered that not long before a party of 67 Americans had descended, like a plague of locusts, and had virtually cleaned the place out. There was now only one main course available which involved goats cheese and Amanda and I didn't want that although Marie was happy to have some. We decided to have soup and bread except they were out of bread too. I don't like parties of 67 Americans. You'd think that they would have had the decency not to eat so much. 😕
After that we had some cups of tea and coffee with cake to fill any gaps then it was onward to the Museum of London.
After looking at various exhibits, of which there are a lot, we took Marie into another part of Barbican to see some Roman wall before the light started to go.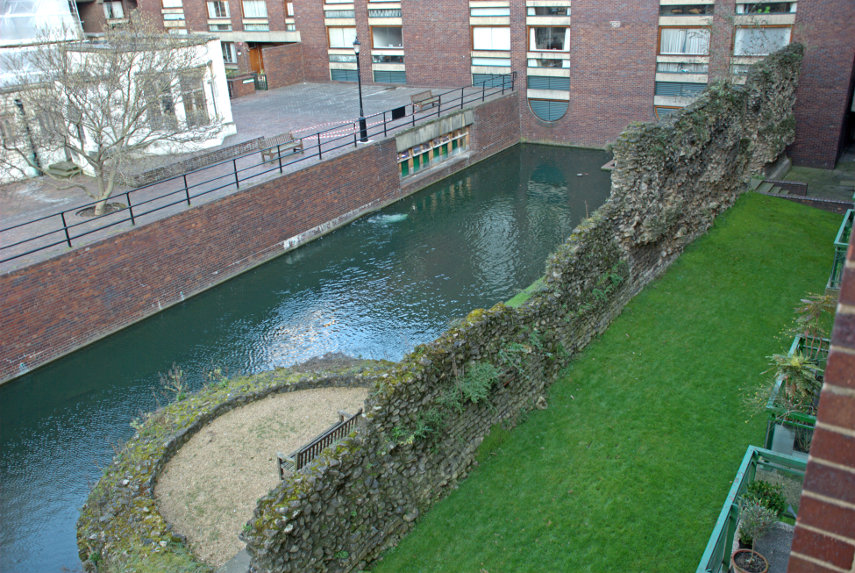 The semi-circular area is the base of a medieval guard tower which had been built into the old Roman Wall and the obvious length of wall is Roman.
We went back to the Museum of London, which is easy to do as entry is free, and looked at some more exhibits. Did I mention that there are a lot?
Our last exhibit was the Lord Mayor's Coach after which we were all feeling approximately knackered after so much wandering round. We wandered off to find Barbican Underground Station and on the way I taught Marie how to say 'tomato' properly. 😉 We said our goodbyes at the station and Marie went west and we went east.
We enjoyed our day and I hope that Marie did too. Until next time Marie. 😀