A high speed trip.
A high speed trip.
The high speed railway route from St. Pancras Station in London runs down through Ashford in Kent, under the English Channel, and thence to foreign climes. On its way it also passes through Stratford International Station in Greater London and, as I have mentioned before, the rail route from our local station goes through Stratford on its way into London.
Part of that high speed route can also be used to get to other places in Kent so on Saturday we went, by high speed train, to meet two friends of ours, Ian and Carole, in Kent who live very near Rochester and that is where we all met.
We caught our usual train from our usual station and travelled to Stratford then walked for 10 minutes to Stratford International Station and caught the train to Rochester. The run to Ebbsfleet, the next station, is on the high speed line but it is mostly underground having to pass under the River Thames. We were obviously travelling fast but I've no idea what our actual speed was although these trains have a maximun speed of 140 MPH. It took us 30 minutes to get to Rochester where Ian and Carole were waiting for us at the station.
Walking out of the station we crossed a road or two and very soon found ourselves in High Street.
You can see that the town was expecting us because of the bunting hung across the street. A short distance along and we came across this building – notice the legend just above the doorway in the second picture.
The building is late 16th century and was once a town house but has been converted to three shops. This building was used by Dickens as the model for Pumblechook's home.
The Kent countryside near Gad's Hill Place, Dickens's last home, is the setting for Pip's childhood in Great Expectations, and Rochester is the model for the 'nearest town'.
Mr. Pumblechook was charged with escorting Pip to Miss Havisham's house for the first time. Because of this, Mr. Pumblechook believes forevermore that he had a big hand in helping Pip to his fortune.
A little further on we saw Eastgate House dating from around 1590.
The second picture is the rear view showing the Swiss Chalet, where Dickens wrote some of his greatest works, which was given to him by the French actor Charles Fechter and it arrived on Christmas Eve 1864. It was originally located opposite Dickens' house on Gads Hill.
There are two rather dubious looking Dickensian characters sitting on the wall and some even more dubious characters over to the left. Amanda on the right, Carole in the centre and Ian on the left. This is the middle of June and you'll notice that we are all wearing jackets. We are still waiting for a proper summer.
Leaving Eastgate House we hopped up Crow Lane to the Vines. The Vines used to be the vinyard of the local monks but now it's a small park and a very nice one.
Just opposite the Vines in Crow Lane is Restoration House where Charles II stayed on his return to England in 1660 to be crowned (the restoration of the monarchy). The building is the amalgamation of two medieval houses.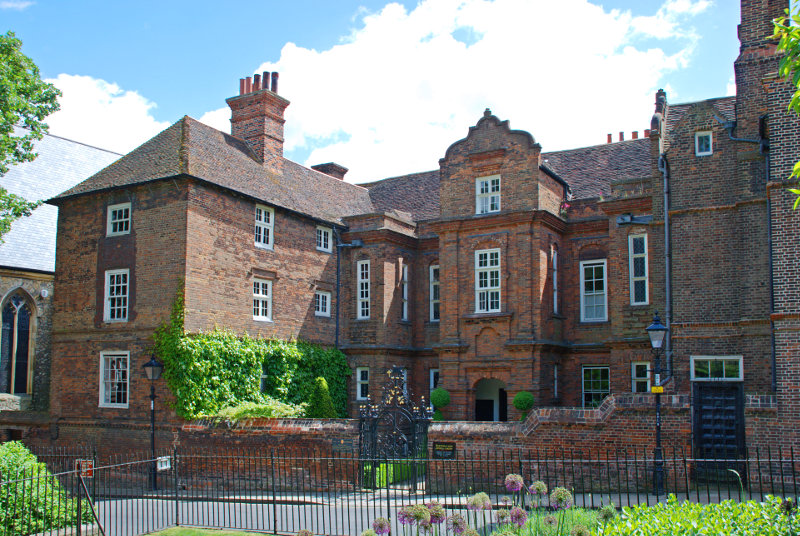 We left the Vines at the far end and emerged into Minor Canon Row. These Canons are not the BOOM BOOM sort but the eclesiastical sort, you understand, and they needed somewhere to live so this row of 7 Georgian townhouses were built for them between 1722 and 1735.
Walking round the corner at the far end and we get our first view of the cathedral.
It didn't take us long to get to the west end and the main entrance where we went in. Entrance is free.
There are more photographs of the interior but you'll have to wait for those to appear on the main web site.
Back in the High Street we stopped for lunch in a nice little restaurant called the Atrium with plenty of wooden beams. Service turned out to be a bit slow but the food was very nice. Well, of course I had the Chocolate Truffle Torte for dessert – I mean, do I look silly?
Whilst we were having lunch we could see, out of the window, this building across the street.
It was the Poor Travellers' House dating from the late 16th century. It was endowed under the terms of Richard Watts' will of 1579 providing a night's board and lodging for six poor travellers. More pictures will appear on the web site later.
A little further along High Street next to Two Post Alley is this rather interesting Tudor building and it really is that wonky.
You may notice a small bit of the castle beyond the end of the alley.
The weather was deteriorating by this time with a very strong wind so we went for a quick look at the castle and I managed this photograph in a quick flash of sunlight.
It looked very impressive but we didn't want to hang around in this weather so we'll have to make a return visit.
Ian and Carole took us back, in their car, to their house for some tea. We had strawberries and cream with some coffee and walnut sponge to follow which was very nice indeed. I'm desparately trying to make you envious here; I hope it's working.
When it was time for us to leave Ian and Carole drove us back to Rochester Station where we caught our train to Stratford and thence another train home.
Rochester was a very pleasant town packed with interest and just 40 minutes from London making a nice day trip destination.