There is a small group of towns on the River Thames just to the west of London that sound interesting, Maidenhead, Marlow, Henly-on-Thames etc., which we were discussing some time ago and thought that they might make an interesting visit sometime.
Yesterday, Friday, we visited Marlow – sort of. It isn't really the time of year, last day of January, for such a visit or the right weather, it came down in buckets in the afternoon, but we went anyway.
What did we see? Very little. So why did we go? Well we had arranged to attend a lunch which was to be a get together of friends with whom I used to work and it happened to be in Marlow.
It would have been a long drive which would have included the M25 (rather notorious for hold-ups) so we chose to go by train. We could have travelled all the way to Marlow by train but that included a shuttle service from Maidenhead which ran only once an hour and so would get us to Marlow too late. One of my work friends who lives over that way volunteered to collect us from Twyford station and take us to Marlow with them. Trains to Marlow leave from Paddington about every 15 minutes so that was much better.
Getting bored yet? Well I suspect that you are only going to become even more bored.
We left home at 8:45 to get a train at 9:23 from our local station. It was cloudy but bright so we thought we'd chance it across the fields to the station. The path was a bit muddy but not too bad although we had already decided not to return to the car that way when we returned in the dark and, we suspected, heavy rain.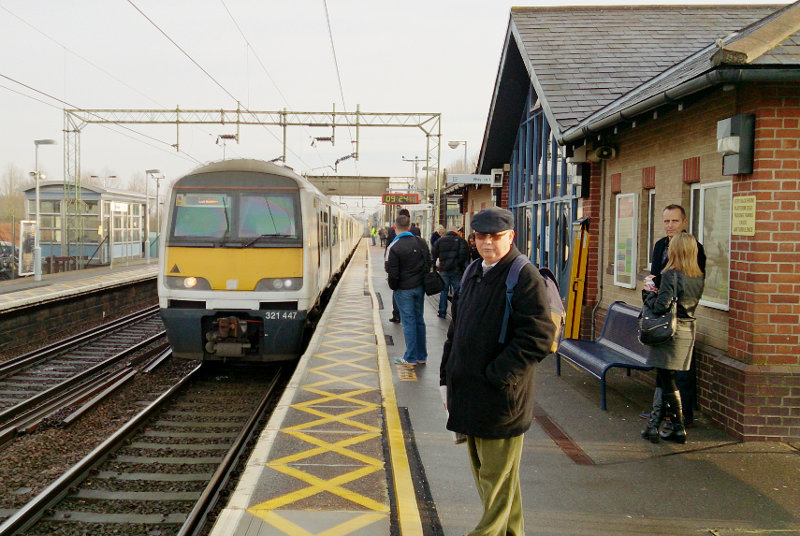 This is our first train of the journey arriving at our local station. We arrived at Liverpool Street Station on time without incident and changed on to the Hammersmith & City Line on the Underground. That took us to Paddington where we caught the train to Twyford. We caught a slightly earlier train than planned which meant that we stood around in the cold longer at Twyford Station until our friend turned up at the appointed time.
We travelled in the car for about 20 minutes to Marlow passing some flooded fields on the way and entered Marlow town centre via an attractive suspension bridge across the Thames. It turns out that the bridge was built in 1831 and is the only one of its type surviving. I remember noticing some timber-framed terraced cottages with brick infill as we drove past but we were soon in the car park in the town centre. On the very short walk to the restaurant we thought that Marlow could be interesting but we really saw very little.
We had an enjoyable meal and this is us – a bunch of Ancients in an ancient town. You cannot get more ancient than that!
The empty chair in the second picture is where I was sitting with Amanda next to me.
Our lunch finished at 3:30 and by then it was pouring with rain. Our friend went off to collect his car and then drove back to pick us up outside the restaurant which was very nice of him. We got back to Twyford station, walked on to the platform as a train arrived. Not bad timing.
We got back to our local station without incident and stepped out into pouring rain and gusty winds. On the walk back to our car my umbrella was blown inside out 3 times but still works. The bottoms of my trousers were soaking wet and so were my shoes. Ditto for Amanda.
We would have liked to have seen more of Marlow. Some other time perhaps and hopefully in better weather.