'Off the wall' is an expression used in the UK and, I believe, in the USA which means unusual or bizarre. In this particular case 'Off the wall' is on the wall! But I'm getting a little ahead of myself here so lets go back to the beginning shall we?
Yesterday, Wednesday, we hopped on a train once again and ended up at Liverpool Street Station in London emerging onto Bishopsgate at about 10:15 AM in sunny weather. The temperature was around 46 F which was a little cool but is pretty good for February. We could have been up to our knees in snow.
We were intending to spend the morning wandering the streets so a bit of sun is nice and not having to dress up like a couple of Arctic explorers was also nice. You can join us if you like.
Turn left along Bishopsgate, right into Middlesex Street ( used to be Petticoat Lane until the Victorians renamed it) then left into Wentworth Street where the Petticoat Lane Market is now held.
Down Wentworth Street to Brick Lane and turn left along Brick Lane.
It does feel, when wandering along Brick Lane, that this is part of Bangladesh and we did see a sign referring to the area as Banglatown. We also saw signs in what I belive may be Bengali.
Wanna buy a Saree? This is not really about the shop but the decoration on the boarding filling the window. Yes it's street art again.
If you take the trouble to look there's a lot of it about.
Some of it is fairly conventional.
But some of it is definitely 'off the wall'.
We couldn't leave without showing you this little chap. Well, maybe not so little.
I am given to understand that it is supposed to be a hedgehog. The general shape is about right but the poor thing's spines seem to be a bit sparse. The artist is known as 'Roa' and is from Belgium.
I took far more photographs than I could show here and we decided to stop at this point.
Right! Keep up! Don't lag behind or you'll miss the bus. We have a number 26 to catch. We didn't have to wait long and we were off to our next destination. On the way we saw this old shack, from the top deck of the bus, which you may recognise.
Then we made our way up Fleet Street.
Past the Temple Inns of Court and the Royal Courts of Justice.
Finally arriving at Aldwych where we get off the bus. Still with us? Good.
A short walk up Wellington Street, turn left along Tavistock Street, turn right into Tavistock Court and we're here – Covent Garden Market. Why are we here? Well that will have to wait for an hour or so because it's time for lunch and our intrepid travellers are famished.
Some time ago we visited Docklands and had lunch at a cafe called Henry's which we quite liked although they blotted their copybook by taking 30 minutes to bring our dessert. Remember? There is another branch of Henry's here in Covent Garden and we thought we'd see if they could do any better.
We arrived at about 1:10 PM so we expected it to be busy but they found us a table and left us to study the menu. We were on the same level as the street but there was a lower floor in a large well which gave us the impression that we were on a balcony. This was our view.
We gave our order for our main courses about 10 minutes after we arrived but it took about 20 minutes for them to arrive. I ordered a Chicken and King Prawn Jambalaya and Amanda ordered Blackened Chicken Breast & Avocado Salsa which were both very nice and quite filling. We both decided to have a dessert and I had a Sticky Toffee Glory which is described thus:
Fresh bananas, vanilla ice cream and broken meringue,smothered in toffee sauce.
I had that when we ate in their cafe at Docklands and I remarked at the time that although it was very tasty I could not detect any meringue so I decided to try again here and I have to say I could not detect any meringue in this one either. Perhaps the meringue is broken into such small pieces that it's undetectable but that would seem rather pointless.
We both did enjoy our lunch however and we would go there again but not if we were in a hurry as they are rather slow. If you have plenty of time we would recommend it especially as, for London, the prices are very reasonable. It cost us £44 for two including a tip.
Time to move on to our next destination and we had to walk only about 100 yards to here: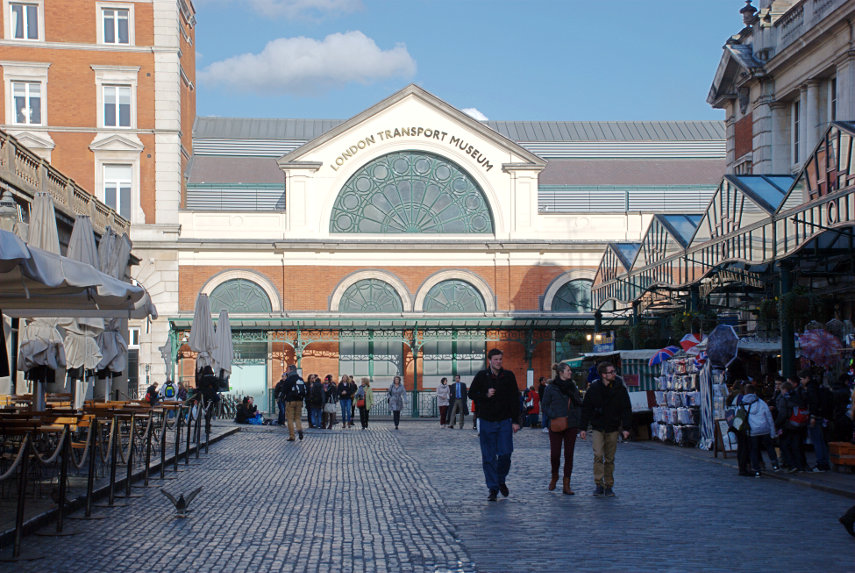 This building, so I understand, used to be the old Covent Garden Flower Market and is spread over three floors. On entering the people at the desk suggest starting on the top floor (there are lifts and stairs) and working downwards. I can see the logic in that as it means starting with the earliest transport and moving towards the present day.
The first area one encounters is this:
It certainly looks striking. The light grey ramp on the right is the way on to the main displays. This next picture gives an idea of the main space with galleries on each side. It certainly is big enough for a bus or two and some trains.
We started at the top where there are some examples of horse drawn buses and trams.
I suspect that those vehicles wouldn't provide as much comfort as we expect today.
The horse drawn trams don't look particulary luxurious and look rather similar to the horse drawn buses except that the trams run on rails and appear to be able to carry many more passengers.
We moved down to the floor below and forward in time to when underground trains started to run although these were hauled by steam locomotives.
You may notice that there is no cab on this locomitive so the driver and fireman had no shelter. They may not have needed it underground but there would be times when the train was running out in the open and in all weathers.
The old style carriages had separate compartments along the length of each coach with each compartment arranged across the coach with bench seats along each side. You can see, in the photograph below, that although we were prepared to 'mind the gap' there wasn't any gap!
If Amanda is waiting for the train to start she may be in for a long wait unlike this old buffer (notice the manic look in his eyes) who decided to try one of these individual shelters used during the second world war for people who would be working in the open, such as a railway yard, and not near a normal shelter when there was an air raid.
Then we get to the time when electric locomotives were introduced which didn't fill the tunnels with smoke.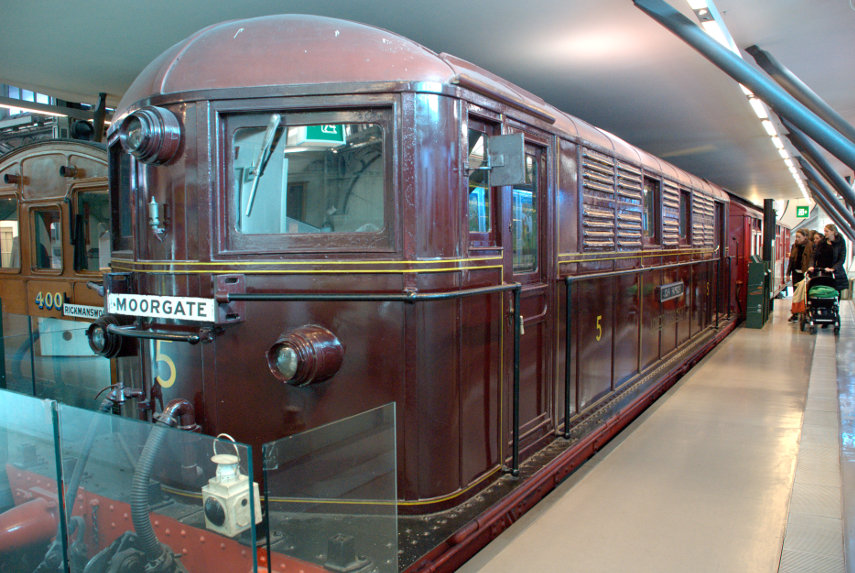 The London Underground has been running for 150 years this year.
There were taxis, buses and trams in fact far too many vehicles to go through here and many more photographs will appear on the main web site in due course.
When we had finished looking around, and there is an astonishing amount to look at, we retired to the cafe for some refreshment. I had coffee but Amanda decided to have hot chocolate and this is what she had:
The cafe is situated above the shop and the shop is stocked with a wide range of London Transport items.
This is a really interesting museum and certainly worth a visit. It is run as a registered charity which is partly funded by donations from Transport for London but the rest must come from the general public. Your visit will help to support them and it will keep you happily amused for some time.
We finally decided that we'd had enough for one day and caught the No. 26 bus back to Liverpool Street Station and thence to home.