The Saggar Maker's Bottom Knocker
The Saggar Maker's Bottom Knocker
We had been waiting for a sunny day and were beginning to think that it would never happen and then, suddenly, today it was sunny. Time for a trip methinks.
We set off for Ironbridge which is just over an hour by car from us going via St. Milburga's Well in the village of Stoke St Milborough. The well is actually a spring which was first mentioned in 1321 and is said to be unfailing and good for sore eyes. Our eyes weren't sore so we are unable to verify that.
Villagers would rinse their clothes in the well and beat them on a flat stone nearby. It has been going for over 700 years and it hasn't stopped yet.
You can see from the picture that the flow of water is very strong.
Onward to Ironbridge.
Ironbridge has nine museums not counting the Iron Bridge itself and we drove to Blists Hill first which is set up as a Victorian town. This is a typical Victorian street.
There was a Fish & Chip Shop in this street where we bought a single portion of fish and chips, wrapped in paper, to share as our lunch and there was more than enough for the two of us. I can also tell you that it was very tasty indeed having been cooked in the Victorian way i.e fried in beef dripping (fat). The chips were crisp on the outside and soft inside – perfect.
There are a lot of Victorian buildings here including industrial, commercial and domestic together with lots of machines. The view below shows an old mining area with headgear above the shaft and the small brick building on the right houses the steam winding engine which hauls the cage up the shaft. The second picture below shows the actual steam winding engine which was running when we were there.
Nearby was the replica of Trevithick's Locomotive which is in steam often on a Saturday (check before you go). This was the world's first steam locomotive to run on rails.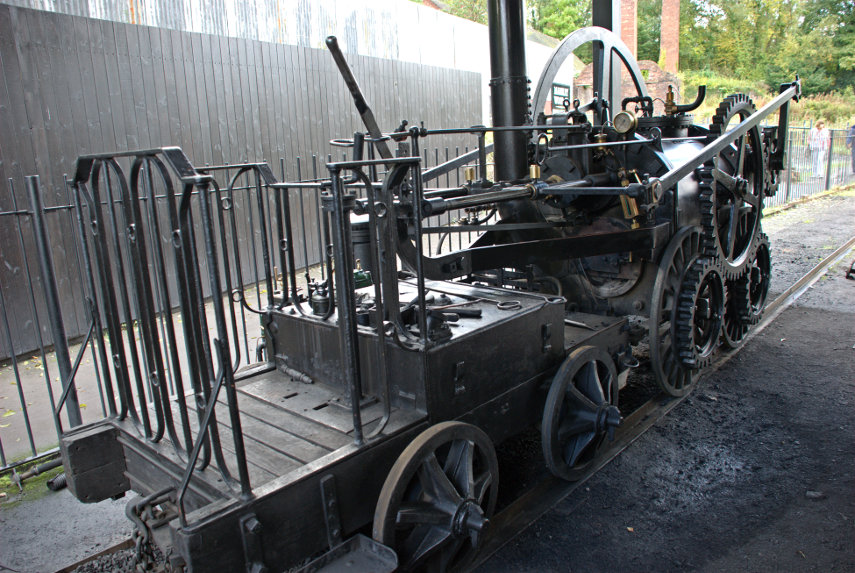 We walked alongside the canal to the far end where we saw the Inclined Plane. This is a VERY steep hill with railway tracks on it which would be far too steep for a locomotive to be used so there was a steam winding engine at the top which was used to raise and lower barges from the canal at the bottom to the canal at the top and vice versa. That must have been a sight when it was working.
We then walked down by the side of the tracks to the lower level but if you are not capable of that you could walk back along the canal to the Funicular Railway or Inclined Lift which connects the upper and lower levels. This is completely automatic so just press the button to call the lift and then ride up or down to the other level.
There is a LOT to see here and you could easily spend a day in this museum alone.
Our next port of call was the Jackfield Tile Museum a short drive away. One point worth mentioning is that parking is chargeable but the ticket will allow you to park in any of the other museum car parks at no extra cost.
You don't drive through this entrance arch, the car park is off to the right, but you do walk through and the museum entrance is along on the left and is fairly obvious.
This was on Amanda's 'must see' list but I did wonder if I'd find it a bit boring. I needn't have worried; it is amazing.
There were some rooms, like this one, which display various, mostly individual, tiles but there are also many tile exhibits like this one.
Many of the exhibits and the individual tiles are astonishing.
After looking around the tile museum we moved on to the Coalport China Museum. There are two brick kilns here and the photographs below are taken from the same spot looking in both directions.
Parts of the internal structure of the kiln in the top photograph have been removed to give an idea of what goes on inside during firing.
There are also workshops where one can watch pottery being made and hand painted.
Which, of course, brings us to the Saggar Maker. This is him in his workshop and in the past he would have had two assistants including a Bottom Knocker. The Bottom Knocker would have been a young, unskilled lad who would have sat in a corner producing clay pads, using a shaped iron band, which would be combined,by the skilled Saggar Maker, with the sides to make the final Saggar.
A Saggar is a large container made of fireclay which would hold pottery during firing to protect it and the next picture shows the cut-away view into a kiln with Saggars piled high.
There are also a number of display rooms where individual items can be seen.
As the pottery museum is only a short walk along the canal from the Tar Tunnel we went to have a brief look. I say a brief look because, at one time, visitors were able to walk along the tunnel but now one can look into the tunnel from the entrance but not walk along it. I'm hoping that sometime in the future it will, once again, be possible to walk along it but that may be months or even years.
The tunnel is about 1100 yards in length and it was originally designed to be an underground canal connecting some of the mine shafts to the Shropshire Canal. However whilst it was being dug the workmen hit a source of black, sticky tar which was discovered to be natural bitumen. The bitumen originally flowed in prodigous amounts at about 1000 gallons a week although it reduced some years later.
That was the end of our little trip so we went home. There are more museums that we haven't seen so we'll probably be back.
For more information on these museums see the Ironbridge pages on the main web site.