Our trip finally comes to pass!
Our trip finally comes to pass!
Here is a "moan about weather forecasting apps" warning. I usually use two apps for weather information and, of course, they tend to contradict each other. This morning the Met Office weather app forecasts sunny intervals this morning and mostly cloudy this afternoon. The BBC weather app, however, forecasts sunny intervals all day. I think I'll go with the BBC forecast as it's better.
As it happened the BBC forecast was right and we had plenty of sun. We set off from home to Dore Abbey in the village of Abbeydore.
The above picture shows the parish church of Abbeydore but if you look at the picture you will see that the tower height looks about average for a parish church but if you compare it with the rest of the building you will see that the main body of the church is much higher than normal. That is because this church used to be part of Dore Abbey and is the only part of the abbey still in existance. The tower was built in 1633 but the rest of the building was built in the late 12th century.
There are some small exterior bits of the abbey remaining which are attached to the church such as the structure shown below but very little else.
Inside, because of its height, the church does look spectacular.
There are a few areas of colourful heraldic ceramic tiles like this.
There are also a few surviving wall paintings of which this is one.
We have seen all that we wanted to here so we moved on to the next location just five miles away – Grosmont Castle.
There is Amanda sneaking in without me after crossing the bridge whilst I was taking this photograph. Still she does give an idea of scale.
There isn't a lot left in this ruin but what does exist is quite impressive. You may notice Amanda up on top of the wall near the centre of the picture. The way up is through that large dark doorway at the base of the tower.
This is the stairway one has to negotiate to get up onto the wall. It may induce a little vertigo in those of you who are that way inclined. Inside the tower isn't so bad but once you emerge the sides are open with just that handrail to stop you falling off.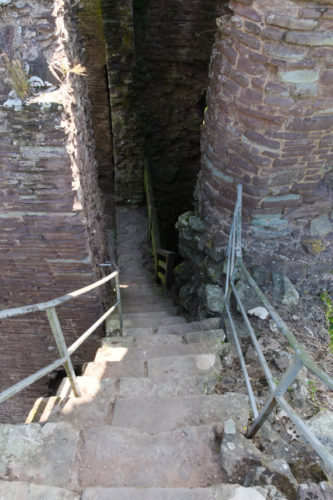 The views when you get up there are rather nice though.
It was, once again, time to move on and this time to Llanthony Priory; one of the very many abbey/priory ruins scattered about this region but pretty impressive don't you think?.
One of the impressive things about this ruin is the landscape round about which is truly magnificent.
One of the unusual things is that there is a small hotel attached to the ruins. We weren't staying there but we did have lunch there. When we found the Cellar Bar entrance we found ourselves at the top of some steps leading below ground and, in the bright sunlight, it looked almost too dark to see. When we got down there we found ourselves in what appeared to be a small, but bright, cellar with about 6 tables scattered about.
They had a reasonable selection of meals which turned out to be perfectly acceptable. I had Chilli Con Carne with rice and Amanda had just a bowl of chips and she said that there were plenty of chips.
After lunch it was, once again, time to move on. Finally we are now headed home via the Gospel Pass, which is the highest road pass in Wales, and I'll give you a bit of advice. If you just want to see the Gospel Pass then go up from the Hay-on-Wye side not the Llanthony side. The road from Hay-on-Wye is narrow with passing places but not as narrow or as tricky as the road from Llantony. The Llantony road runs between banks, hedges and walls and doesn't open out until you cross the cattle grid. The picture below was taken not long after we crossed the cattle grid and is looking back towards Llanthony.
The views from up here are really spectacular.
We came down into Hay-on-Wye and, after a quick stop for coffee, we went home.
That trip was a circular route of around 90 miles which we thought, afterward, was a bit too long for a day trip but we arrived home unscathed but tired.