Down South – Day 4 – Sunday 27th Sept.
Down South – Day 4 – Sunday 27th Sept.
We go home today but have decided to call in to Scotney Castle, in Kent, on the way but before any of you castle fanatics get overexcited, especially those of you who's names begin with 'M', let me explain that there is very little castle but a lot of garden.
By the time we'd had breakfast, paid our hotel bill and driven to Scotney Castle it was a little after 11:00, they don't open until 11:00 anyway, but the car park was nearly full; well it was a sunny Sunday after all.
We entered the grounds in a wooded area so couldn't see very far until we reached a more open bit then went round a bend and saw this …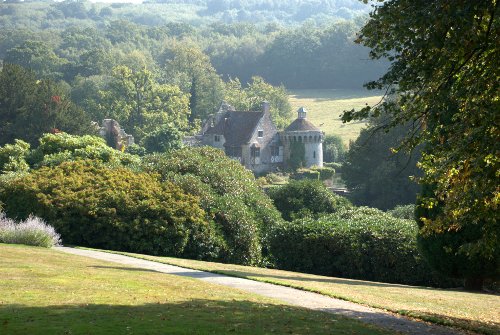 Nice view! We walked down the slope towards the 'castle' and arrived by the moat. The castle stands on a small island in the middle of the moat, which is more like a lake than a moat, and access is via a stone bridge.
The castle was built in the valley of the River Bewl around 1378-80 and, like Bodiam Castle, it had round towers at each corner only one of which remains. Some hundreds of years later a house was built here which incorporated the remaining ruins of the castle.
This shows a bit more of the ruins across the moat and that bright yellow plant, which I thought were flowers of some sort, turned out to be brightly coloured leaves. Very pretty though.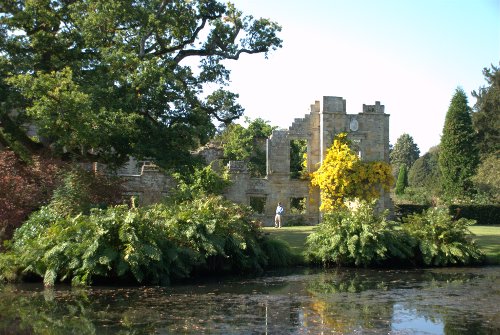 This shows a better view of the house which is, I believe, Tudor.
We went into the house, which is more or less empty, to have a look around but I didn't find it particularly interesting. I did take this next picture whilst upstairs showing the area in the front of the house. The stone object in the centre of the circle is the old well head and, in the distance up the hill, can be seen the later Victorian Mansion. The mansion is open to the public but we didn't go in.
We made our way back up the hill which is where I took this picture of the front of the Victorian Mansion.
Just around the right-hand side of the mansion is this little terrace where the old house/castle is just visible below.
As it was now lunchtime we adjourned to the cafeteria for a light lunch and headed back to the car. People seemed to be pouring into the place now and there seemed to be cars parked everywhere and not just in the car park so we were glad that we arrived relatively early.
That was the end of another trip and, we thought, a particularly nice one. We both liked Eastbourne very much and the coastal scenery is not to be missed. I'm sure we'll go back.