Kew 2 – The route march!
Kew 2 – The route march!
Monday 25th July was forecast to be a fine day. Just one fine day in a run of unsettled weather so we grasped it, so to speak, with both hands. We used our Senior Railcards to get a third off the fare to London, £15.80 each, and as that includes a Travelcard (Zones 1-6) we then get to go right across London to Kew at no extra cost. Bargain! We present our 2For1 voucher when we get to Kew Gardens and get in for £12 for the two of us. Can't be bad.
On this, our second, visit Amanda is going to give the Princess of Wales Conservatory and the nearby Rock Garden a thorough going over while I have decided to march all the way round the perimeter, with diversions of course. It's a lovely sunny day, pleasantly warm with temperatures in the low seventies.
But first we both visited the Palm House to go up on the high level walkway and this is how we got up there.
It seems that, after a while, the spiral staircase was going to go on for ever but we got there in the end. The walkway is quite narrow but feels very sturdy and there's comforting steel railings to stop one falling off.
Looking out through the glass gave us a nice view.
Then looking the other way gives us a different view.
You may notice that it is quite a long way up and it's HOT and humid up here. Phew!
This Palm is the tallest 'house plant' in the world. You may be able to see that its fronds are touching the roof and the tree can be seen only as far down as the level of the walkway so there's a lot more of it below. We eventually came back down to earth, luckily without a bump, and went to see the view from the Temple of Aeoleus that is indicated as a viewpoint on the map of Kew Gardens. It wasn't really worth it. Most of it is now obscured by trees.
We decided to go for an early lunch which would then gives us a long afternoon for our separate projects. So we went back to the Victoria Gate to the cafe there. After lunch we split up and I turned left (south) and started my route march. If you want to follow my progress you can do so on this map: http://www.kew.org/ucm/groups/public/documents/document/ppcont_008324.pdf If you right click on the link you should be able to open it in a new window so that you can refer to it whilst reading.
My first diversion was to the Temperate House and up yet more spiral stairs to the high level walkway here.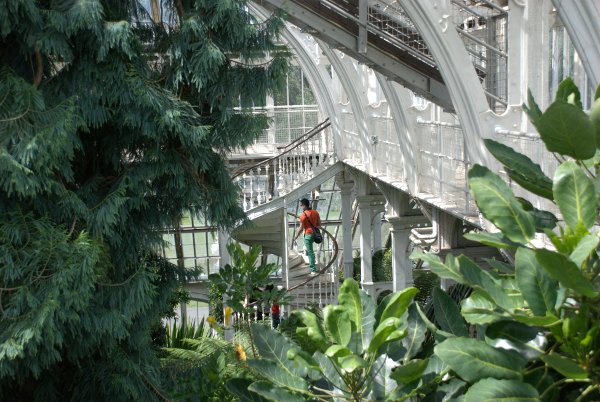 It is rather similar to the walkway in the Palm House but with different plants of course. There is a very good view of the trees from up here and there is a person on the ground in the next picture if you can spot them in the shadows.
There is an excellent aerial view of the big fish in the pond from up here and I'll bet that they didn't even suspect that they were being spied on satellite style.
Out of the Temperate House and back to the perimeter path and onward towards the Pagoda.
This pagoda is not a small structure and there appear to be ten fairly substantial storeys – quite impressive. Having reached the first corner, south-east, I turned west and a little way further on I came across the Japanese Gateway.
I remember on our last visit when we crossed the lake on the Sackler Crossing that we'd missed seeing the Lily Pond so this time I made another diversion to see it. I needn't have bothered! It may have been nice had the water been visible but the whole pond was covered in some sort of floating water weed. Oh well, back to the perimeter track and Queen Charlotte's Cottage. On the way I came across some of these:
Back to Queen Charlotte's Cottage. It's not that easy to find as it is well surrounded by trees but I managed it eventually. The date it was built doesn't seem to be known but the earliest mention of it is in the 1700s.
After this I reached the next corner, south-west, where I turned right (north) and had a glimpse of the River Thames. The river is still tidal at this point and the water level was low with mudbanks both sides so the overall view wasn't particularly picturesque.
On my way along the west side, towards the Brentford Gate, I saw this rather attractive display:
From Brentford Gate I cheated a bit. On our last visit we saw Kew Palace so I cut the corner off and headed straight for the Princess of Wales Conservatory as it was in that area I had arranged to meet Amanda.
A quick call on my mobile 'phone and we met up outside the conservatory and Amanda took me to see the Secluded Garden she had already visited.
Then we went in to the Duke's Garden which was very colourful. By this time I could hear my legs muttering to themselves so I though it was time to let the poor old things rest. We made our way back to Victoria Gate where we had a cup of tea then we went home.
Two long visits and we still haven't seen everything that there is to see.