Squaring the circle
Squaring the circle
Another sunny day. Another dash for the car. Another zooming off to somewhere.
This time it was Radnor Forest which is 10 miles (or 20 minutes) from home. The nearest village is New Radnor and it's called 'New' Radnor because it was new when it was built in Medieval times to replace Old Radnor.
We passed through New Radnor and travelled on the A44, heading south-west, for about 1.5 miles until we saw a car park signposted where we turned off. We followed the rather bumpy track for about 0.6 of a mile and parked the car.
We walked along the track until we saw a path and stream going off to our left and followed it. Here is the intrepid Amanda following the stream.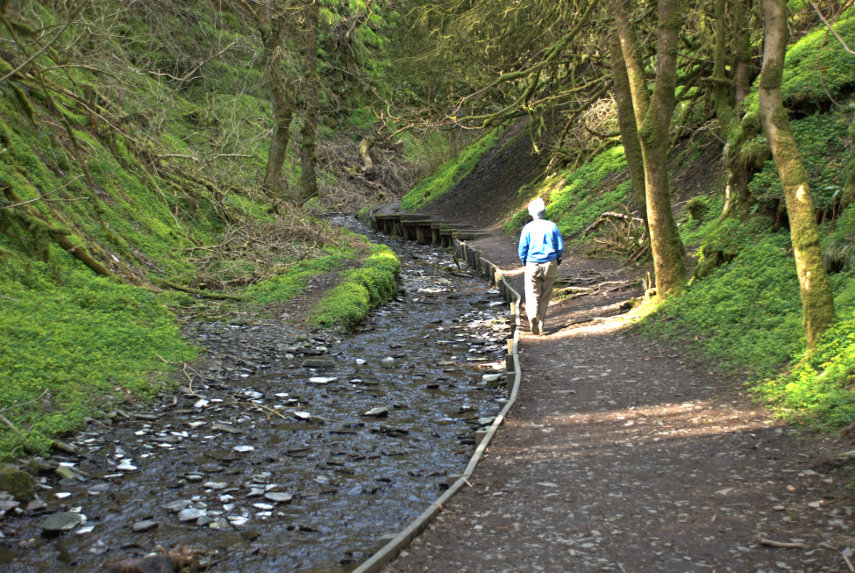 We are both keen to see what's around that bend ahead and, when we got there, this is what we saw:
It wasn't quite as high as we expected and it certainly wasn't impressive but it is pretty. It is fairly dry at the moment and we can always pop back after some heavy rain when it should be carrying a lot more water. There is no way in other than the path that we used and there's no other way out.
The path is easy to navigate and it has been supplemented with boarding in places where the bank would otherwise be too steep to walk on without falling into the stream and, to prove it, Amanda didn't fall in.
When we arrived back at the junction we turned left instead of back towards the car and carried on. We soon found ourselves climbing a very steep slope. So steep that had it been a bit steeper it probably been a hands and knees job. We got to the point where we were wondering whether to turn back when we saw the top not too far up and decided to continue.
On the way up we met this chunky little chap.
That is a Dor beetle. They are not uncommon and are of a type of dung beetle which all have the rather unattractive habit of eating dung. I thought that you might like to know that. We left it to its business, so to speak, and finally made it to the top of the slope.
We were rewarded with this sight after we realised we were being watched.
It was a Roe Deer. It watched us for a short time then trotted away. We joined another path and headed downhill. This time the slope was reasonable and at the bottom we were greeted with this view:
We rejoined the track and were soon back at the car.
We hadn't quite finished yet and although we were headed back home we were looking for something on the way. How would you like to see a stone circle? Well unfortunately for you there isn't one but we might manage a stone square. A stone square?
What can I say? Apparently these groups of four stones are not uncommon hereabouts and they are more common in Scotland but nobody has any idea what they are for.
Amanda had also noticed, on the map, another item marked 'standing stone' which was on our route back so off we went. We found the right area and found a place to stop the car and get out. We looked over a nearby field but couldn't see anything remotely like a standing stone. We moved to the gate of the next field which had a lot of sheep down the far end and spotted a small stone near the sheep. There was no public access in that field but there was a public footpath in the next field so I thought I'd walk along it to see if I could get a photograph.
Now this is where it gets embarrassing. I found a gap in the hedge which enabled me to get a clear view of the stone.
Then one of the sheep spotted me and started bleating which started some of the others bleating as well. That soon moved through the whole flock. I realised that they were all looking at me and going baaaa. Time to move, I thought, and headed back to the car. I was horrified to see them start to follow me. Remember that I'm not in the same field but in the next one and there is a stout hedge between us.
By the time I got to the car the sheep had reached the gate of the other field and we noticed that there were some small metal troughs on the ground with some of the sheep putting their noses in them. It suddenly dawned on us that they thought I was Mister Food and were waiting for the goodies. We didn't have any, of course, and as we drove away we could see dozens of little faces watching us through the gate. I felt really mean.
We went home.