There were two firsts for us today; it was the first trip of the year and it was the first time that I had used my new camera. It wasn't warm but considering that it was February it wasn't anywhere near as cold as it could have been and the weather forecast was for sunny intervals which from my point of view was ideal. I didn't know whether what I wanted to photograph would look best in sunny or cloudy conditions so it looks as though I'd have the choice. Perfect!
We drove for an uneventful hour and ten minutes to the National Trust's Attingham Park just a few miles south-east of Shrewsbury. It was unfortunate that it was also half-term for the local schools so there were a LOT of parents with children. The National Trust staff told us that Attingham Park was the second in the list of most visited sites which we found surprising.
None of it, however, would affect why we were here.
The gardeners among you may recognise Galanthus as being the latin for Snowdrop, which they have here, and for those people who don't recognise the word 'Galore' it means 'in abundance'. They flower in February and this is what we came to photograph.
However not just those but THESE:
That's what I call a Snowdrop display.
After walking round the woods with the snowdrops we made our way over to the Walled Garden to see what that was like although we did not expect to see much at this time of year. Just before we entered the Walled Garden we saw this:
This is the Regency Bee House; a rather luxurious home for bee hives and one of only two such houses in the country. We went onward into the Walled Garden.
Very large but, as we suspected, there is virtually nothing in the way of plants yet; those pots on the left are covering Rhubarb plants in order to 'force' them i.e. make them grow taller than they otherwise would. There was also a separate walled area through an arch which was where the greenhouses were but again very little planting. We shall have to return in the summer.
We made our way out of the Walled Garden and decided it was time for lunch. The restaurant is in the Stables Courtyard area which still has some of the old stables which one can visit. You don't have to eat here unless, of course, you happen to be a horse.
There is also a shop and bookshop together with the inevitable toilets. We went into the Carriage House Cafe and liked the meals on offer and found ourselves a table. It has to be said that it was very busy with parents and children moving past nearly all of the time so if you want peace and quiet you'll be out of luck.
I chose a Fish Pie and Amanda had Sausage and Mash and they both turned out to be very tasty and of good quality. We would eat here again but perhaps we'd bring ear mufflers next time.
After lunch we moved on to the house.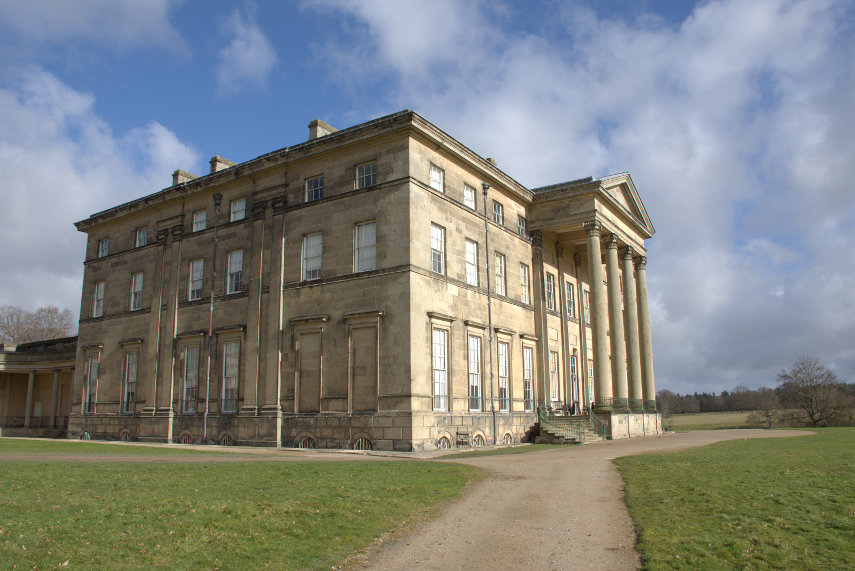 The Attingham Estate includes this mansion together with about 4000 acres of parkland including a Deer Park. We didn't visit the Deer Park this time but we did visit the house going in via the Entrance Hall.
The spaces between the pillars were originally open with the Grand Staircase beyond but John Nash, the architect, changed all that which explains why I thought it not as large or impressive as I'd imagined but I have to admit it's a bit better than ours. We don't for example have any trompe l'oeil panels in our hall but these are very good. The doorway off to the right takes us in to the Drawing Room.
The Drawing Room does have a rather impressive ceiling.
This next room is known as the Boudoir. It is circular with 7 doors (we counted them) and it also has an impressive ceiling. It was created for the 1st Lady Berwick as her own intimate space.
Then into the Inner Library with its Regency bookcases. The walls of the Inner Library are painted red; a popular Regency colour choice associated with strength and masculinity.
Around 1805-1807 John Nash, the English architect, included this rather grand staircase in his redevelopment scheme at Attingham as having removed the main staircase he needed a replacment.
One certainly couldn't miss it.
We now went down to the semi-basement which was the domain of the servants. The next picture showns the Servants Hall where they had their meals.
The rules that servants had to observe, which came from Lord Berwick, included:
"No servant is to absent themselves from the house at anytime or from meals on any pretence whotsoever without especial permission of the Steward, Housekeeper, Lady Berwick or myself."
So they are not allowed to skip a meal without permission which brings us to the Kitchen. Quite a large room with a lovely fire which was very welcome at this time of year.
Finally the Bell Room. I thought this to be quite extraordinary when there are so many bells, to demand attention from the servants, that they needed a room to themselves. These bells went around the four sides of the room and were divided into sections of which this was the Ground Floor.
That brought us to the end of our little trip, so early in the year, and back home we went to wait for the next one.