Judge for yourself.
Judge for yourself.
Yesterday we went to Presteigne a small market town about 10 miles from us. We also went there back in the summer and photographed this ochre coloured building which is known as "The Judges Lodging".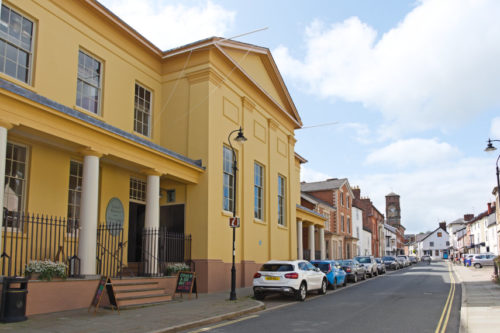 It is open as a tourist attraction and entry is by payment of a small fee. However this Saturday was an open day (free entry) and there was also coffee and cake available at a very modest cost and if there is anything that will pique my interest it's the availability of cake.
This building consisted of a police station, cells, court room and judges apartment all rolled into one and was built in 1829. It was once called 'the most commodious and elegant apartments for a judge in all England and Wales' by Lord Chief Justice Campbell in 1855).
We first visited the Dining Room because of its opulence and splendour (or was it because that's where we were given coffee and cake?)
After finishing our refreshments we went through to the Parlour (literal meaning – talking place) where there was a large christmas tree. There were no christmas tree lights because they did not exist in Victorian times. In both these rooms there were proper wood fires burning in the fireplaces; vey cosy. All lighting was either by oil lamps or gas and this building has both.
After seeing these rooms we went upstairs and the decor in the stairwell was typical of the times.
Needless to say the bedroom was furnished as befits a judge.
This was, after all, a place of work and this shows the court room with the public stalls right at the back. The judge, naturally, had his own entrance direct from his lodgings.
After dark the court room was lit by gas and the next picture shows the 'Gasolier'; rather like a chandelier but with gas instead of candles. At this time incandescent gas mantles hadn't been invented so the light came solely from the flames and I can tell you that that makes it very uncomfortable because the flickering flames act almost like a stroboscope.
The servants quarters were in the rather dingy basement together with some cells for the prisoners.
I have not included all that we saw here but more will make its way onto the web site at some stage. It was a very interesting visit.