In my previous entry I said "The weather is forecast to be good next week" and it is.
I had wanted to visit Pleshey for some time now so that is where we decided to go this morning. Pleshey is a small village about 7 miles north-west of Chelmsford in Essex and is unusual in that it lies wholly within the defensive ditch and rampart of Pleshey Castle. The castle itself, built in Norman times, no longer exists as it was dismantled for building stone in the 17th century but the Motte and Bailey are still evident.
We started by looking at the church.
There has been a church on the site for many hundreds of years but it was mostly rebuilt in the 19th century incorporating just a little of the original. The design of the present church is unusual in that it has a flying buttress on the south side of the tower, which can be seen in the view above, and a smaller hexagonal tower, containing a spiral stairway, attached to the north-east corner of the main tower which is shown in the view below.
We crossed the road to the public footpath opposite the church and followed the defensive ditch all the way around the north-west side of the village and back to the same road but on the other side of the village. The ditch is rather overgrown and this is the best view that I was able to get.
We walked back through the village admiring some of the pretty thatched cottages as we passed by.
The castle motte and bailey is privately owned and accessible to visitors only by appointment but some features can be seen from the outside. On the way through the village we stopped at the castle mound viewing area – a nice little grassed area with a bench seat.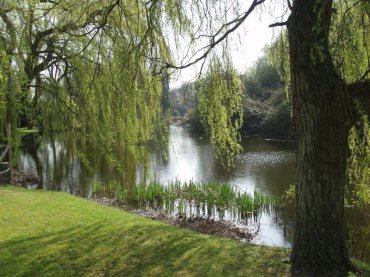 The water is part of the original moat with the 50 foot high castle mound off to the right. Looking between two of the cottages we could see the large brick bridge connecting the motte and bailey and which was built in the late 14th century. This is one of the earliest brick structures in the country.
Finally we were able to get a good view of the part of the moat that surrounds the bailey although there is much less water in this part.
All in all an interesting little trip.