Last friday we had arranged to meet an American couple, who were staying in London, at our local station at around 10:00 AM in order to take them round some of our local places of interest.
Joe and Carolyn were from Oregon and the local countryside here reminded them somewhat of home. It was their first visit to this country and today was their first experience of English country roads. They were particularly interested in the roads because, in a few days time, they will be travelling by train to North Wales where they will be hiring a car.
I think that they were a little surprised at how narrow the roads were in places and that the hedges were 'wing mirror clipping' close!
Our first stop was Coggeshall which is only about 3 miles from the station. We walked from the little local car park up towards the church where we saw the 15th century Woolpack Inn which was built before Columbus discovered America.
Then, as it was literally next door, we looked around the 15th century church.
Walking back down Church Street we stopped to examine and admire various old buildings such as this timber-framed house of jettied construction and with oriel windows.
Having walked to the bottom of Church Street we walked up West Street to have a look at Coggeshall's most famous building – Paycockes.
You'd have to go a long way to see another 16th century house this good. We walked, from here, up Grange Street to Grange Barn which was built around 1140 for the Cistercian Abbey of which little else remains.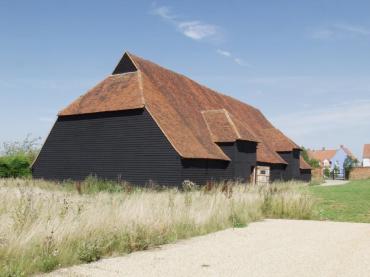 Crossing the road into Abbey Lane we walked along to see what remains of the abbey (not much) and then on the public footpath across the fields to East Street.
Again there were plenty of interesting buildings and features to stop and look at including a house with an intricately carved beam with the date 1585 carved into it.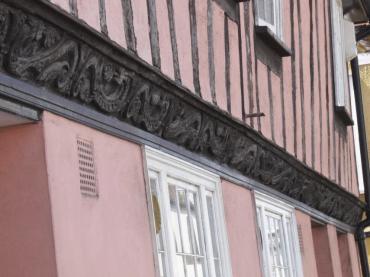 It was nearly lunchtime by now so we went back to the Woolpack Inn for lunch. They have a good selection of meals there and I think that we can all vouch for the fact that they were very tasty.
After lunch it was back to the car and on to Thaxted via Great Bardfield. As we drove into Thaxted and turned right to go to the car park we caught a glimpse of things to come.
After parking the car we walked past the church down Watling Street into the town centre where we had a good look at the Guildhall.
Then up the little lane to the right of the Guildhall, Stoney Lane, where we saw Dick Turpin's cottage. Dick Turpin was an infamous highway robber and, so I understand, a nasty piece of work!
Stoney Lane leads into the churchyard so we had a look at the church. This is an amazingly impressive church for a small market town. Joe was particularly interested in some marquetry inlay in the pulpit and he had plans for producing something similar when he got home – I wish him luck. I wouldn't have a chance of doing anything like that.
We walked from the church to the windmill going past some thatched cottages on the way. We had seen numerous thatched cottages on the way here but this was the first time Joe and Carolyn had been able to see thatch at close quarters. The tower mill that we were going to see was the first windmill they had seen. This picture shows Amanda, Carolyn and Joe wondering whether they will end up with severely strained necks.
It is sometimes open to the public but, unfortunately, today was not one of those times.
Back to the car and on to Finchingfield where we stopped for a much needed cup of coffee or in Amanda's case – tea. After refreshments we walked round to have a look at the post mill – a different type of windmill from the one we'd seen at Thaxted.
There were also a number of thatched cottages clustered around this part of Finchingfield – very pretty.
We walked back across the village green to the car.
It was getting a bit late but I thought we would have time to go via Castle Hedingham to get a glimpse of their first medieval castle. When we got there all we could see, because of tree cover, was a little bit of the top of the Keep. We then had to leave for the station and because the rush-hour traffic slowed us down somewhat we managed to miss their train by about 4 minutes. Luckily there was another train in about 40 minutes.
We thought that Joe and Carolyn were really lovely people and we enjoyed ourselves thoroughly and I hope that they did too.