Today the lightship at Tollesbury was having an open day so we toddled off to have a look.
We arrived just in time for a cup of coffee and a piece of cake which was a good start. It turned out to be a very interesting tour from the bowels of the engine room to the big light way above the deck. We seemed to be going up one set of steps and down another most of the time.
Most of these stairways were so steep it was actually easier going down backward. So down into the engine room we went – backward. It must have been a fun job down in the engine room in a stormy sea.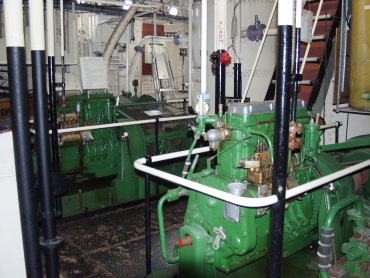 These engines were not used to move the ship but to drive generators to power the light. These ships had no motive power of their own and were always towed into position and anchored.
The actual light looks, from the deck, like this:
Climbing steps like these within the tower:
gets us into the light housing itself with views like this:
There are four separate lights within the housing, each with it's own reflector and each facing a different point of the compass and thus covering 360 degrees.
You can see that there isn't really a lot of room in the main light housing and, being completely enclosed in glass it was a bit of a hothouse today.
That trip was a bit unusual and very enjoyable. Now it must be time to split the main brace mustn't it?