The trip that nearly wasn't.
The trip that nearly wasn't.
Wednesday 21st March
The London weather forecast from the Meteorological Office for tomorrow (Thursday) is sunny all day and we believe them don't we? A trip to London tomorrow sounds possible.
Thursday 22nd March
Up early ready for our trip to London and Amanda listens to the travel news on the radio. Oh oh! There is overhead wire damage on the railway south of us so there are no trains for part of our journey and buses are being used as a substitute. There is also an accident on the A12 causing considerable congestion and, guess what, the buses are using the A12.
A bulletin a little later says that the overhead wires should be repaired by 7:30 AM. We don't think that there's much chance of that so we prepare to cancel our trip but are still listening to the travel bulletins.
About 30 minutes before we'd normally leave for the station we see that our usual train has been cancelled but, surprise surprise, the trains are starting to run again after that with possible delays of up to 1 hour on the journey. We decide to chance it and go for the train after our normal one which leaves 30 minutes later.
We arrive on the platform of our local station 15 minutes before our train is due to arrive and five minutes later a train arrives. An extra train has been put into service and it gets us to Liverpool Street Station without any delays. Hoorah, we made it after all.
We walk, in sunshine, to the Guildhall Art Gallery (entry is free) where we descend into darkness, well very nearly darkness. We are going to see the remains of the Roman Amphitheatre discovered when the Art Gallery was being built. These remains are from the eastern entrance to the amphitheatre.
It was long suspected that Londinium must have had an amphitheatre but it wasn't until 1988 that these remains were discovered during excavations prior to building the new Guildhall Art Gallery. Excavations of the remains continued until 1996 when it was declared an Ancient Monument and the designs for the Art Gallery had to be revised to preserve the remains in situ.
This was our first view of the remains. The green pattern of lines at the back is meant to represent rows of bench seating in the amphitheatre proper – we are in the eastern entrance remember.
Having wandered along to the far end where the amphitheatre would have been we looked back to see this view.
Having had a good look round the amphitheatre remains we went back upstairs to look at the Art Gallery. It is very nicely laid out and has some amazing pictures some of which are shown here together with Amanda looking out from a gallery at a mega-picture of her illustrious ancestor.
This is that very picture and he's the chappie on the horse – General George Elliot, defender of Gibralter when the spanish tried, and failed, to lay siege to it. Amanda's grandmother was an Elliot.
I thought that this painting was particulary interesting as it was of the grand opening of Tower Bridge. Looks to be quite a celebratory affair.
We left the Guildhall Art Gallery and emerged into the sunshine. Yes it was still sunny. We now headed south for the River Thames and St. Catherine's Dock. We had been to St. Catherine's Dock before and there are pictures on the web site to prove it but this time it was just a starting point for our planned route.
As we went past the Old Stock Exchange we went in for a quick look. It has now been converted to an upmarket shopping centre and Cafe.
We continued on to St. Catherine's Dock by Tower Bridge and set off on our route shown on the map below as a black dotted line. The green area on the left edge is the Tower of London.
Most of that route, you may notice, is along what used to be a canal but is now no longer navigable because it is blocked at both ends and has new housing along its length which does make a nice setting and probably isn't cheap.
Remember the weather forecast? Sunny all day. Notice that although there are a few patches of blue sky there is now some significant cloud appearing.
Part the way along that route we came to the location marked '1'. You couldn't really miss it because there are what appear to be two large, old sailing ships parked next to the canal. They are full size replicas of real ships.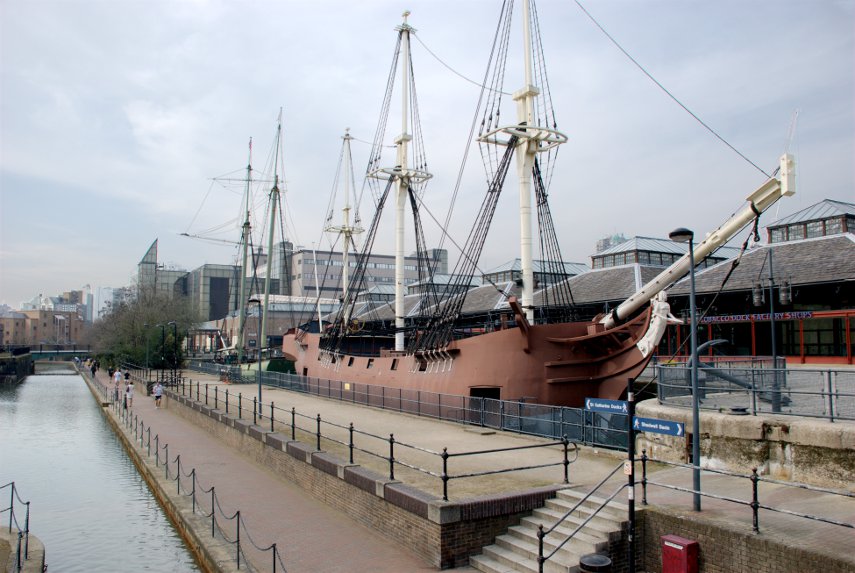 The Three Sisters is a replica of a 330 ton ship built at Blackwall Yard in 1788, which traded until 1854, taking manufactured goods to the East & West Indies and returned with tobacco & spices.
The Sea Lark is a copy of an 18th century American built schooner, which ran the blockade and was captured by the Admiralty during the Anglo-American War in 1812-14. The public cannot get on to these ships.
So what is this place? It is:
We noticed by now that the sun was covered in a layer of thin cloud. It was possible to see where the sun was because of the very bright patch in the sky but the light was very diffuse. Meteorological Office weather forecasts – don't make me laugh.
The story of Tobacco Dock hasn't finished yet. When this area was originally developed in early nineteenth century the site covered 30 acres and specialised in high-value luxury goods such as ivory, spices, coffee and cocoa as well as wine, tobacco and wool, all stored in elegant warehouses and cellars. Tobacco Dock was one part of this scheme.
In 1990, after investing 47 million pounds converting the old warehouse, it was re-opened as a shopping centre. Soon after it was hit by a recession and soon went into receivership and closed. Over 20 years later it is still closed although properly maintained. You can see the building to the right of the ships beyond the gates. The old warehouse which comprises the main part of the shopping centre is now a grade 1 listed building.
We left Tobacco Dock and continued our route to location '2' on the map. This is Shadwell Basin the largest area of open water remaining from the old London Docks.
You can see the towers of Canary Wharf in the distance. This is another old dock which has been converted to upmarket accommodation.
There are two old lifting bridges at each end of the basin and this is the one nearest the River Thames. You can see that Canary Wharf, the tall tower blocks, are really not far away.
We turned round and started back and noticed this view which we hadn't noticed on the way out. Looks quite imposing doesn't it?
We also saw this old water level gauge which runs from 16 to 24 feet – you do speak Roman don't you?.
On the way back along St. Catherine's Way we saw Alderman's Steps but have been unable, so far, to find out why they are so called.
So that was the end of our trip that nearly wasn't. Perhaps we'll get better weather next time. We want to do that same walk again to see some things that we missed but I'm not going to tell you what they were and to, hopefully, get some better photographs.

We do some boring things don't we?