We went to Braintree in Essex recently to visit one particular street. Braintree was extensively damaged during the last war so that there are not that many old buildings in the centre but one street nearby appears to have survived unscathed.
Bradford Street has 65 timber-framed houses ranging from the 13th century up to the 20th century.
Three of the houses in the street are quite rare in that they date from around 1220. Of the 13th century buildings that do exist most are barns, halls and inns whereas these are domestic dwellings. I didn't take a photograph of these because the frontage of these terraced cottages are very unprepossessing and you could be forgiven for ignoring them as Victorian dwellings.
However most of the other old house do look old. This group, for example, are 16th century and were once an inn called The Woolpack.
This house is 14th century with some later, 16th century, alterations.
The house next to it which looks like a Georgian building is actually a 15th century timber-framed house with a new facade added during Georgian times.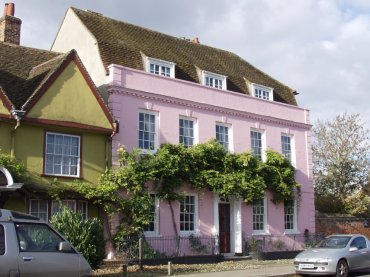 This demonstrates that you cannot take the appearence of a building at face value. There are some other buildings like this in the same street where the frontage conceals an older building.
This tudor house is not disguised in any way and what you see is what you get.
Altogether an interesting street.