A Knighton walk – what a rush!
A Knighton walk – what a rush!
It was nice and sunny this morning with the forecast that it would cloud up around lunchtime so we decided on a little walk before that happened. It was cool with a cold wind but still pleasant enough.
We left our house and went via the secret path (I'm not telling you where that is because it's secret) onto Larkey Lane and thence to Ffrydd Road where we turned right, away from the town. After a short walk we turned up the little lane that goes up to Knighton Golf Course but only for a few yards when we turned right along a public footpath through Great Ffrydd Wood.
That's when we encountered the rush. Wood Rush in fact. All that 'grass' in the picture below isn't – it's all Wood Rush.
In the next two pictures you can see the flower heads lit up in the sun.
We followed the current path to a point where it doubles back the way we came but traverses diagonally uphill. At this point we hopped over a stile into a field to try and photograph the Victorian Elan Aqueduct which used to carry carry water from the Elan Valley in Wales to Birmingham. The aqueduct, built in 1896, is difficult to see because of so many surrounding trees and in these next views one of the arches is visible plus part of the horizontal stone structure.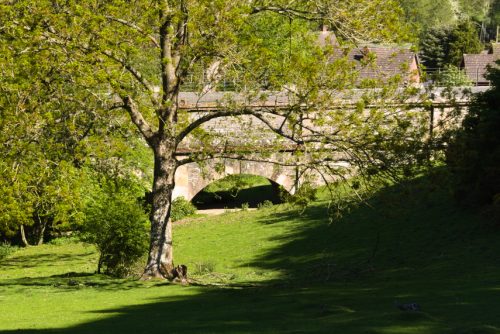 We then went back on to the path through Great Ffrydd Wood and continued uphill. It is a pleasant but long and winding path through the wood and eventually leads back onto the Knighton Golf Course road which, incedentally,is a private road but is also a public right of way.
We finally emerged onto open ground above Knighton. The far hill in the top picture is Kinsley Wood and the open ground on the very left is Panpunton Hill.
The next view, from the same viewpoint is of the Teme Valley running toward Ludlow. The red tree at the foot of the slope appears in both pictures.
Finally a rather nice view of St. Edwards Church, Knighton. This is a Victorian Gothic rebuilding of an earlier church of which the medieval west tower is the only surviving part.
That was the end point of our little walk so we went home.